Area Attractions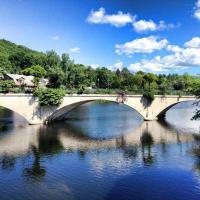 Kenburn Orchards is located in the heart of New England, nearby to Shelburne Falls, home of antique and gift shops, restaurants, unusual Glacial Potholes, and the Bridge of Flowers.  Local crafts include glassblowers, candle-makers, potters, and other artists who welcome you into their studios.
Located within 2.5 miles of the crossroads of Route 2 and Interstate 91, just over the Greenfield line, Kenburn Orchards is an ideal location to start your tour of the beautiful and historic Mohawk Trail. We are in an extraordinarily beautiful rural area known for its history, schools and museums, picturesque farms and year 'round opportunities for outdoor activities. The quiet beauty of the area seems to promote creativity; the hills are alive with music, and many world-class artists and crafts-people live and work here.   A number of festivals and events sponsored by a variety of local organizations ensure that there is usually something wonderful going on nearby.
Recreation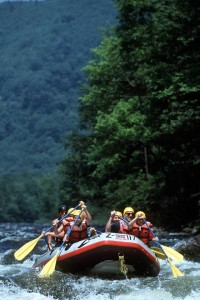 All the best of New England recreation is nearby, with sports or leisure for every season of the year.  Whether you choose hiking on trails along the rivers or through the mountains, white-water kayaking, canoeing or river rafting, ballooning, skiing cross-country, snowshoeing or downhill skiing, our area has it all.  The Pioneer Valley is known for its biking trails and rail trails.
The Pioneer Valley and Berkshire hills offer recreational opportunities for sports for all ages, from a casual hike to a wild ride on Class IV rapids, name your pleasure.  We are close to Crumpin Fox, one of the finest public golf courses in New England as well as a 9-hole chip and putt just down the road. Some family members may want to pick blueberries, while others explore the region. Our Berkshire hills offer some of the best foliage viewing and all-season hiking in New England.   From our yard we overlook the Connecticut River valley, and you can see to Mount Monadnock, about 50 miles away in southern New Hampshire.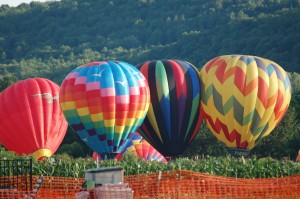 The Berkshire hills are also perfect for winter sports, from downhill skiing and cross-country, to snowshoeing and snowboarding.  Skating is available on indoor rinks or on area ponds and lakes.
Dining
The area is rich with eateries to match any palate. Regardless of your mood, there is a restaurant to meet your desires – whether it is a bowl of hot soup made with fresh local ingredients with a sandwich on fresh, home-made bread, or a romantic multi-course meal served on the finest linens with wine and candlelight.
Antiquing
New England is known for antiques and country auctions. The Pioneer Valley is home to several fine auction houses and numerous antique shops on the main routes and back roads, including the famous Brimfield Antiques Shows.
To learn more about vacationing in Massachusetts, check out the Massachusetts Office of Travel and Tourism, the Mohawk Trail Association or Shelburne Falls.