Directions to Kenburn Orchards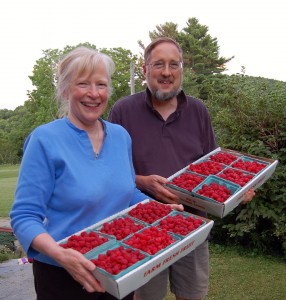 From the north, south, or east, take Exit 26 off I-91, go around the rotary to Route 2 west. We are approximately 2.6 miles up the Mohawk Trail (Route 2) on the right. Slow down as the road curves to the right, or you may miss us! North-South Road is not marked, so turn just after the Kuklinski Woodworking shop and the Kenburn Orchards mailboxes at 1394 Mohawk Trail, just before the large sign for Shelburne Falls.
Coming from the west, we are about seven miles east of Shelburne Falls village, a mile beyond the Colrain Road on the left. We are approximately opposite the Sheepskin Outpost, which is on the right. Turn left onto North-South Road just after a triangular yellow 'No Passing' sign and before the Kuklinski Woodworking Shop.
Caution: many GPS systems map us incorrectly – please enter these coordinates in your GPS: 42.611120; – 72.655293
(Do not enter "Shelburne Falls" as our address!)
Note:
For pick-your-own blueberries, head up the driveway toward the red barn and follow the signs for parking.
We sell Christmas Trees at the road. Please check in first at the Kuklinski Woodworking shop on Route 2 to receive saws, sleds and instructions.
Bed and Breakfast guests proceed up the driveway to the house and enter via the stone steps to the porch and the door with a "welcome" sign.