Start a Family Tradition
At Kenburn Orchards we offer fresh-cut trees for your convenience or we invite you to cut your own using our saws and sleds. Either way you are getting the freshest tree available. Nothing is fresher than a tree you cut down yourself.
Why a Local Farm-Grown Tree?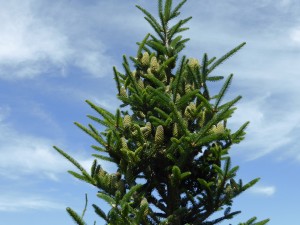 Growing Christmas trees is ecologically beneficial. Our trees actively cleanse the air we breathe by absorbing carbon dioxide and other gases and emitting fresh oxygen. According to the National Christmas Tree Association, every acre of planted trees produces enough oxygen to meet the daily needs of 18 people.
Our fields of trees beautify the landscape, prevent soil erosion, preserve open space, and provide homes for bird habitat, insects, and wildlife.
Real trees are a renewable resource, unlike plastic or metal trees from China. Your choice of a fresh-cut tree continues the natural cycle of planting, nurturing, harvesting and then replanting trees.
A Family Outing
Nothing says Christmas in New England better that a trip to a tree farm to cut your own tree after a new snowfall. It's a great outdoor adventure for you, your family and friends, creating a Christmas tradition and memory that will last forever! Your dog, if on a leash, may accompany you on your search for the best tree.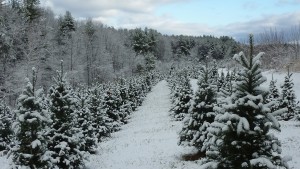 We provide saws and sleds to make it easy to cut your tree. The hardest part may be selecting the perfect tree from thousands of choices, especially if everyone in the family gets a vote!
Selecting a tree is all in the eye of the beholder. We have thin trees, robust trees, short, tall, straight and crooked trees as nature grew them. Offering you such a large selection means you will probably find exactly the right tree for your home.
Once you have selected the perfect tree, bring it back down to the lot on a sled or in your car for final preparation. If you need assistance with your tree, one of the attendants will be happy to help.
Tagging a Tree in Advance
Many people prefer to browse the fields in late fall to select their perfect tree. If you wish to preselect a tree, we provide tagging materials and ribbons to ensure you can locate it later. Before Thanksgiving, tagging is by appointment. Please call. After Thanksgiving, tagging materials are at the lot by the road. We ask for pre-payment for tagged trees. You may return later to cut your tree, or, if you would like us to precut, shake, trim, wrap and prepare your tree for a specific date, we will do so for a small cutting charge.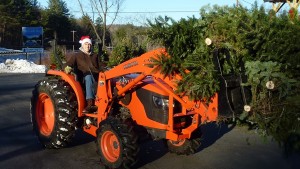 Preparing Your Tree to Take Home
All conifers shed needles from inner branches which often lodge in the interior of the tree. This is a normal part of the life cycle of the tree. This occurs because the tree is preparing itself for winter. At Kenburn Orchards, we will shake out your tree to remove the loose and dead needles before you take the tree home. Shaking also removes any grass, leaves, bird's nests and some of the late fall pollen which may be adhering to the tree.
We then net your tree and provide twine to help you secure the tree to your vehicle. We cannot be responsible for tying trees onto cars.
A netted tree makes handling and transporting easier. Once in the stand, cut the netting and dispose of the used netting in your trash.