The Nature of the Land
Our farm encompasses approximately 150 acres of grasslands and woodlands along with berry and Christmas tree fields.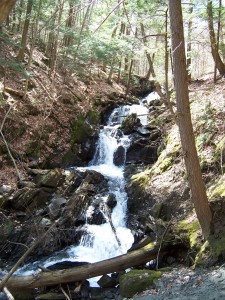 Allen Brook
The land varies in both topography and landscape. A number of small streams flow together from the property into Allen Brook along with output from a small farm pond, wetlands along the front of the property and two large beaver encampments. Allen Brook makes its way through the front fields and drops down one of the deepest gorges in Massachusetts to join the Green River in Greenfield. This then joins the Connecticut River another three miles downstream.
Abandoned Orchards
In the 1920's, Susan's Grandfather transitioned the existing dairy farm into an orchard, and over the years planted about 40 acres of apples including Macintosh, Delicious, Northern Spy, and Cortland as well as peaches. In 1986, when it became no longer profitable to grow apples, commercial apple production ceased.
Even with regular mowing of the abandoned orchards, we were unable to keep out the tangles of invasive bittersweet, multiflora rose, hawthorn and grapevines snarling the old 40' Macintosh apples. In 2013 we took out most of the remaining apple trees, clearing about 30 acres to their pasture-like state of 100 years ago.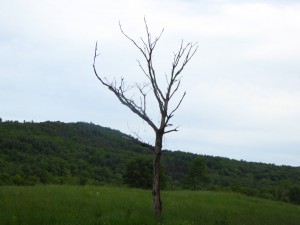 Many farms like ours once existed on the surrounding landscape, with gently sloping hills devoted to pasture or orchards, with more steeply sloping ground occupied by forest growth. Very few of these farms still operate today and the land has increasingly been developed into house lots, or abandoned to allow further forest growth. Our goal is to preserve the property in perpetuity for future generations to enjoy.
Wildlife Diversity
Abundant wildlife inhabits the property, including deer, bear, beaver, turkey, as well as numerous forest and field birds and rare species. Our goal is to manage the property for diversity, and protect existing habitat for the extensive variety of wildlife and birds. Guests visiting the back fields have remarked that it is a virtual "warbler heaven" with significant populations of migrating warblers on the property. Grouse, cedar waxwing, deer and turkey are numerous. The fields provide cover for cottontail rabbits and red fox.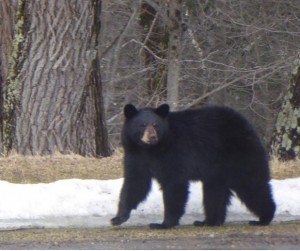 Grasslands
We are now working to establish a warm season grassland. There are few remaining unbroken grassland sites of this size which provide summer breeding habitat for bobolinks, eastern meadowlarks, northern bobwhite, and savannah sparrows. These fields are also important to birds of prey such as American kestrels and short-eared owls that forage for small mammals throughout the year. In the fall, these fields provide food for migrating sparrows, larks, and warblers.
Waterfowl nest in the areas around the irrigation pond adjacent to the lower field and shorebirds have been seen feeding in the area.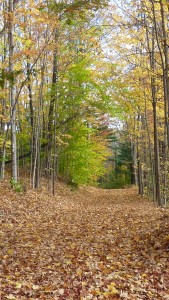 Forest Invasives
Even with the fields cleared, we continue to battle forest invasives which pose an immediate and long-term threat to the woodlands by outcompeting more desirable native species. Multiflora rose and bittersweet form dense thickets that exclude the growth of other vegetation such as tree seedlings, native shrubs and herbaceous plants. Garlic mustard and Japanese Knotweed are working their way in. Eliminating or reducing invasives in the wooded areas will improve the forest health, enhance wildlife habitat and release mast producing and other trees to thrive.