Kenburn Orchards Christmas Trees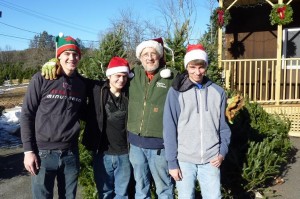 We grow and sell a variety of farm-grown Christmas trees from Thanksgiving through Christmas Eve. We also sell tree stands, wreaths and roping when available.
You may:
choose precut trees, priced by height and quality
pretag a tree in the field in advance for cutting at your convenience
enjoy the experience of a choose-and-cut adventure
All trees are sold at the tree lot at 1400 Mohawk Trail at the Kuklinski Woodworking Shop. Also, choose-and-cut adventures start here.
Pre-cut Trees
During the season, we cut fresh Balsam and Fraser trees every few days to ensure a fresh inventory of cut trees on the lot.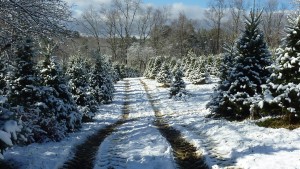 Tree Sizes
We offer precut trees priced by size and quality from about 3' to 10'
Choose and cut trees in the field are one price for any size tree from 3' to 15' high.
A measuring stick will help you gauge the size of your tree. Trees look smaller outside. If you have limited space, it helps to measure your space at home to be sure you choose the right height/width tree for your home. We will also trim your tree to the size you need.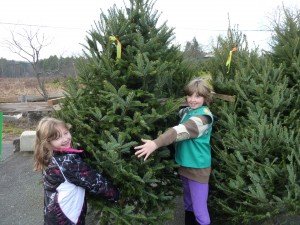 Choose and Cut Trees
Many people enjoy a family tradition of an outing in the brisk winter air to choose and tag or cut the ideal tree for themselves. No tree is fresher or more perfect that the one you choose and cut yourself. Start off your adventure at the tree lot – pick up a saw, a sled and a map of the farm. We will show you where to park and point you in the right direction for the size and type of tree you are looking for.
Preparing Your Tree to Take Home
We will shake your tree to remove any grass, leaves, birds' nests or dead needles, trim the base and lower branches to your specifications, and net your tree for easy handling. We have twine available for you to tie the tree to your vehicle for secure transportation. We cannot be responsible for tying trees on vehicles.
We offer tree skirts which serve as tree bags so you may easily dispose of your tree without scattering needles, branches and other debris all over your house.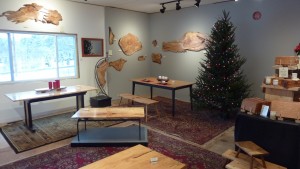 Please come into the shop to conclude your purchase. For payment, we accept cash, checks or charge cards. All trees are plus tax.
Browse the Kuklinski Woodworking Shop for a custom crafted present made right here with local wood. On weekends, enjoy hot chocolate or coffee and Susan's homemade cookies.